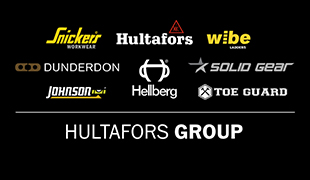 Placeringsort:
Stockholm

Sista ansökningsdag: 2019-06-08
PRODUCT DEVELOPER WORKWEAR HULTAFORS GROUP
We are now looking for a Product Developer for Snickers Workwear.

In your role as Product Developer for Hultafors Group, you are responsible for development of Snickers Workwear products, mainly within the area of knitwear and light wovens.
You follow the products through the whole chain – from decisions based on R&D activities to finished product.
Our products are developed in Mörby, in close collaboration with the end users, and are produced in our manufacturing site in Latvia as well as at producers in Far East and Europe.

The position includes the key areas:
- Develop the products in cooperation with the design and product development team.
- Carry out end-user studies, focus groups and questionnaires according to set project plan and targets.
- Produce and update technical specifications.
- Support in handling of product claims and complaints.
- Follow-up of CSR issues and focus on sustainability.
- Support sales activities and product launches, including training of SO staff
- Develop and promote efficient working methods and project management.

The successful candidate:
- Has relevant academic education. An academic background in textile and experience from the textile industry.
- Has documented experience and knowledge of the entire product and production process from concept to finished product.
- Is competent within CE regulations.
- Is an experienced and structured product developer with experience of international contacts.
- Has good knowledge of both Swedish and English, written as well as spoken.
- Good knowledge in Adobe software, in particular Illustrator.

You are analytical, goal oriented and see new possibilities. You work in a structured way and have both the business focus and customer focus in mind. It is important that you can easily establish good relationships, can listen and communicate well. We value cooperation and being down-to-earth, but also good leadership skills, even if this is not a managerial role. Your drive and initiative is combined with your ability to make decisions and carry them through.
Travelling is a part of the position.

Application:
In this recruitment process we are partnering with Modeverket. Please apply by clicking "Ansök". Make sure to attach your resume and cover letter.
If you have any questions regarding the process, please contact recruiter Helena Wahlgren at helena@modeverket.se.
We will handle all applications on a continuous basis, we advise candidates who have matching competence and background for the position to apply as soon as possible.